Our Story
Established in 1988, Capricorn bakery is profoundly celebrating 33 years of serving Daily & Fresh delights, with the expertise in crafting goodness across the world. Our products reach thousands of people every day being the industrial manufacturers and distributors of a spectrum of bread, cakes, pastries, confectionaries, and much more globally. We comprehend an extensive range of customers and market segments with an array of distribution networks.
Capricorn bakery is rooted from the Thomsun group of companies, an eminent multi-faceted and diversified entity spanning across GCC and Indian Subcontinent, since 1976. The group currently has a 3000+ strong workforce and is a host of entrepreneurial milestones in diversified sectors. Built on strong fundamentals since inception, the company has embarked on many milestone ventures in its pursuit, resulting in being a highly diversified group with 25+ verticals across the globe.
Capricorn bakery is subsequently a market leader in the sphere with its miscellaneous delicacy and cuisines embraced worldwide. Our operations are effectuated from a cutting-edge production facility in Dubai Investments Park, steered by visionary professionals and powered by the intelligent use of technology.
Our Promise
---
We are committed to implementing paramount quality and safety for our clientele, delivering nothing less than excellence. Our major certifications comprise Food Safety System Certification (FSSC 22000) and HACCP (Hazard Analysis and Critical Control Points) certification to ensure the consistency in food safety and is followed in producing, storing, handling, and transporting the food for safe and fit for consumption. We maintain transparency in food preparation with all stakeholders of the company and look for continual improvement in the food safety process followed by the company.
Our Quality and Assurance team furnishes a superior Capricorn bakery experience to our customers with a keen examination and enforces value-added seamless delivery on all our products.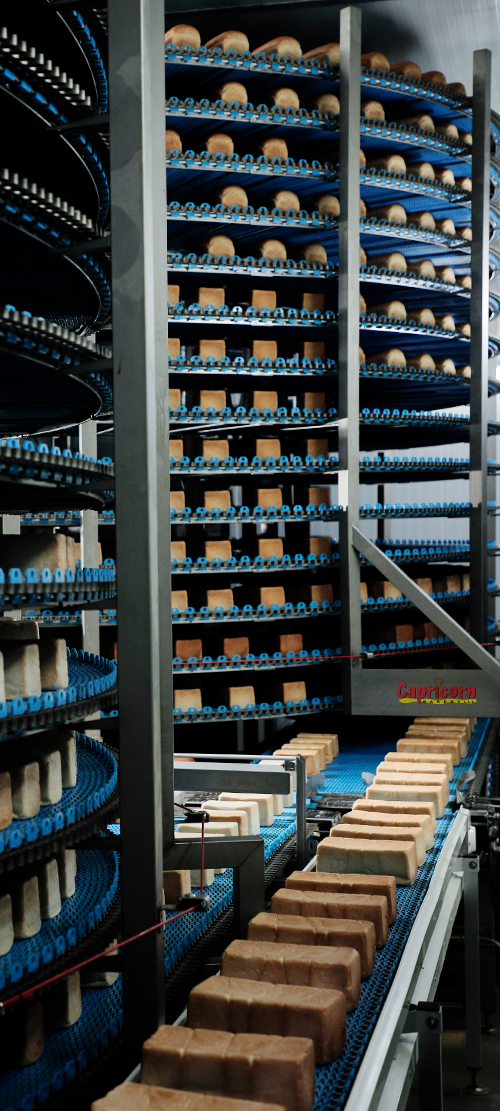 Our Concept
---
Our products are effectuated to the public majorly through online channels, Supermarket Outlet chains, & large-scale distributions.
Capricorn bakery comprehends three major production departments. Breads, Confectionaries and Cakes. Our operations proceed towards a focused approach by keen attention to details, sound employment of the latest technological equipment, and utmost commitment to quality.
Our bread and buns are crafted with premium quality ingredients and are fabricated with robust machineries designed for consistent and continual production, and is manufactured with high-quality materials that ensure excellent dough and baking results.An exceptionally skilled production team leads Capricorn bakery's confectionary menu. The miscellaneous cuisines and occasional delights are prepared by their corresponding culinary expertise. More than 150 varieties of cakes and pastries are available, and the making & baking of individually designed custom cakes takes up a considerable part in the whole process with our adept team of confectioners, decorators, and sculptors which is absolutely put together as per client requirements.Our colossal Rondo-Line is exclusively assembled with a combination of efficient rondo-machines that serves multi-products, earmarked only for Capricorn bakery throughout UAE. The line serves mass-production of profuse quantities and major categories.
We are available over 1000+ outlets at foremost supermarkets, significant malls & various kiosks. For a better understanding of our outlets & online channels, head to OUR STORES. Selling of our products through a distributor chain is developing rather fast and with every passing year, the numbers of our customers are enticingly increasing.
A Message From Our Team
---
"We promise the finest. Our job is to add value for the company's clientele & our integrity is the commitment. We are thankful for the faithfulness and loyalty the customers ensure us with. We work to assure Capricorn bakery's allegiance towards safety & quality and henceforth, will be sustainably executed and accomplished."